BAROQUE FLOREL COMFORT MOUTH SNAFFLE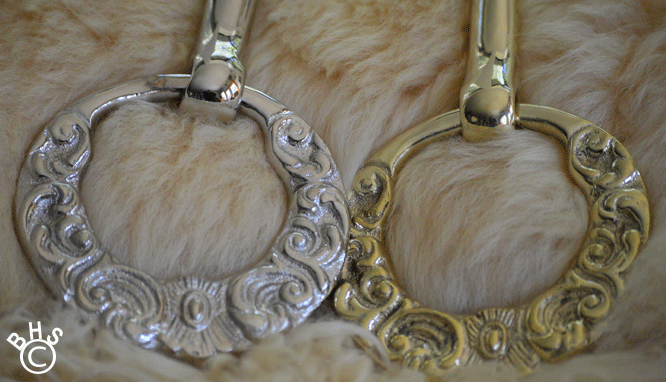 Elegant Baroque Snaffle with comfort shaped mouth in a lozenge French link .with angles bars. Nickel plated finish (referred to as Silver) or Brass plated(reffered to as gold) with floral patterned rings. ( use with Fantasia bit as your double bridle snaffle, see photo far right)
Please Note: if you have a horse that chews hard on the bit the plating can chip or wear off. but is not considered harmful.
13.5 cm mouth, 14 Cm Mouth Or 14.5 Cm Mouth (approx. 5 1/4- 5 1/2, 5 3/4 "
NOT IN STOCK/CUSTOM/SPECIAL ORDER ITEMS, CANNOT BE ORDERED AT THIS TIME DUE TO THE PANDEMIC.

NOT IN STOCK
CLICK BELOW FOR Silver 5 1/4" (13.5cm)

NOT IN STOCK
CLICK BELOW FOR Silver 5 1/2" (14 cm)

NOT IN STOCK
CLICK BELOW FOR SILVER 5 3/4" (14.5 cm)

NOT IN STOCK
CLICK BELOW FOR Gold 5 1/4" (13.5cm)

NOT IN STOCK
CLICK BELOW FOR Gold 5 1/2" (14cm)

NOT IN STOCK
CLICK BELOW FOR GOLD 5 3/4" (14.5 Cm)