MEDIEVAL HORSE SADDLE PAD WITH ROUND SKIRT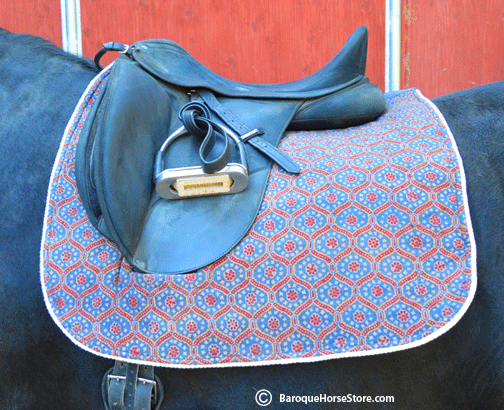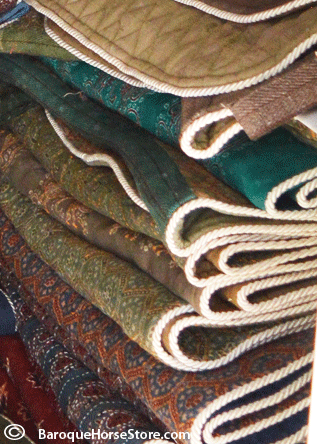 Round skirted Medieval pad. Individually hand made, hand embroidered, hand dyed with pure vegetable dye (coloration can very and be uneven due to hand dying), hand block printed, Custom designed to work with a Dressage, western, Portuguese or Spanish saddle. Machine washable, hang dry, Velcro straps. Pads are quilted cotton with a solid color underneath and are completely reversible.

MEASUREMENTS : , Width approx.. 26", height to girth opening approx. 17-18" Height to bottom 27- 28" I say approximately because the pad is curved to fit along the spine so it would very slightly for where you measured from.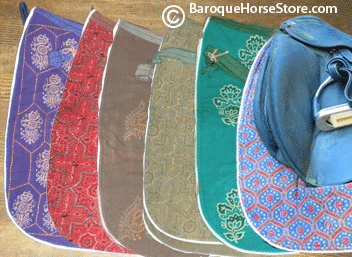 <---- IN STOCK COLORS: Moss green, Olive, Bright Green, Taupe, Purple, Red, Blue.
LIMITED STOCK,
ON CLOSEOUT- NO PATTERN CHOICE
$89.00
CLICK HERE- MOSS GREEN
CLICK HERE- OLIVE GREEN
CLICK HERE- BRIGHT GREEN
CLICK HERE-TAUPE
CLICK HERE-PURPLE
CLICK HERE-RED
CLICK HERE-BLUE