HUNGARIAN BRIDLE CENTER SHALLONG, 2 SIDE SHALLONGS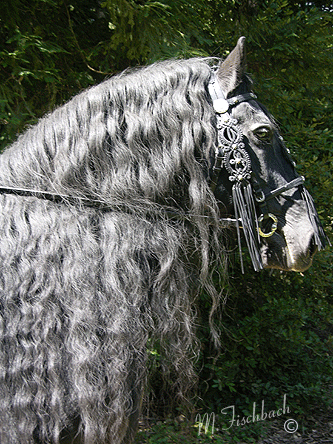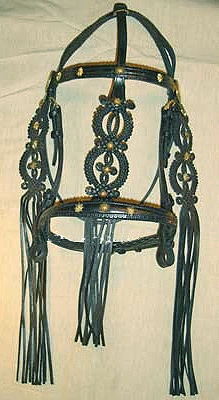 TRADITIONAL HUNGARIAN HERITAGE BRIDLE THREE SHALLONG
Traditional Hungarian Bridle. Top quality supple bridle leather, beautifully hand-braided, center and side shallongs/tassels (these intricately braided leather ornaments are traditional decorative fly-deterrents, which can be removed and put back on easily as the rider desires) includes traditionally detailed pierced buckles. Bridle is accented with decorative brass SUN shaped ornaments, comes with matching reins. Each bridle is intricately braided by older ladies in Hungary. The bridles take time to make.

MADE IN HUNGARY- Top quality harness/bridle leather

Approximate Bridle Measurements: Browband 18" measured from end to end to back of Crown. Crown adjustable from 38-48" bit to bit. Noseband: 26-33" measured smallest to largest buckle options.

SPECIAL ORDER - allow up to 60 days for delivery, on a special orde. Special orders are not returnable.

NO AMOUNT ON BUTTON PLEASE CONTACT for current priceing and ordering availability.
e-mail BHS