USED TACK, PROPS, ONE OF A KIND & CLOSEOUTS
BHS "SHERWOOD" BRIDLE (USED)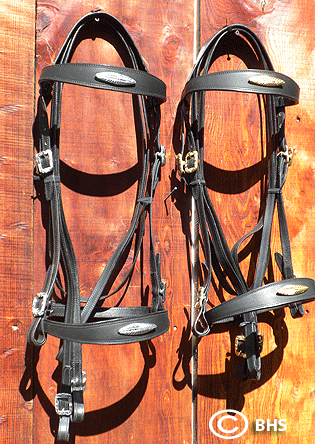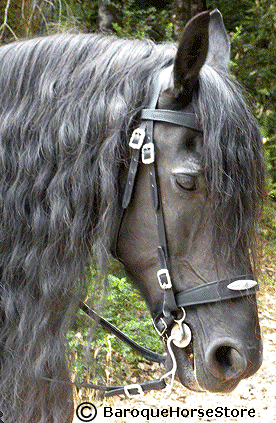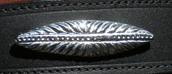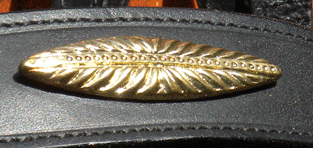 Sherwood Bridles: decent quality harness leather, Black leather with silver or gold tone hardware, Bridles come with matching reins.

size full
Approximate Bridle Measurements: Browband end to end 17", Crown bit to bit 40"-48", Noseband 23"-28".


$125 ( used bridles)

IN STOCK 1
Used BLACK AND SILVER $125



IN STOCK 1
CLICK BUTTON BELOW FOR BLACK AND GOLD


'CONDE DUPLA' DOUBLE BRIDLE (NEW)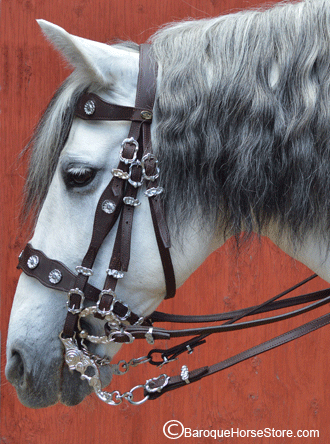 CONDE DUPLA BRIDLES, Medium quality supple leather. Brown with silver accents. This is a double bridle to be used with 2 bits. Bridle comes with a bradoon hanger and both curb and snaffle reins. ( bradoon hanger can be removed if you wanted to use this as a snaffle bridle) Size: FULL/WARMBLOOD ( X-FULL) pictured on a standard size horse so I was able to get it down small enough to fit.
Approx. Measurements: Brow 18" measured end to end. Crown 47"-50" measured bit to bit over poll. Noseband 30"-34".
LAST ONE DISCOUNTED $215.00
IN STOCK 1
CLICK BUTTON BELOW TO ORDER BROWN SILVER

PORTUGUESE DOUBLE BRIDLE (USED/MODIFIED)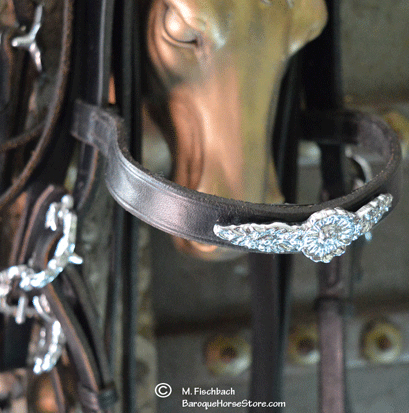 Used Black Portuguese Double bridle with added ornamentation to nose and brow, with ornate buckles. Comes with both pairs of reins and a bradoon strap. Quality leather, still supple. Brown with silver accents. ( bradoon hanger can be removed if you wanted to use this as a snaffle bridle, or added if you want two bits) Size: FULL standard size horse.

ONE OF A KIND $190




\


BHS REVELRY 'VALIANT' BRIDLE ( MODIFIED)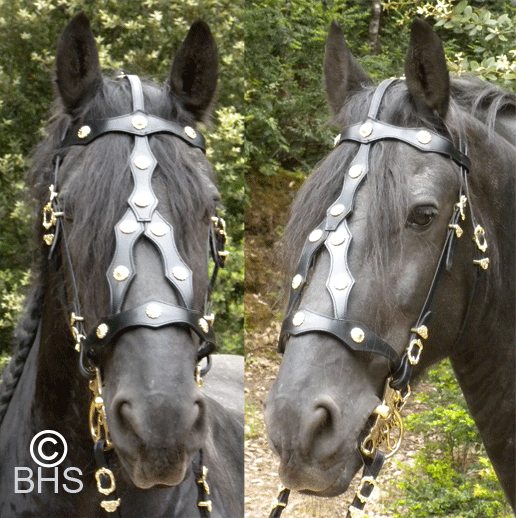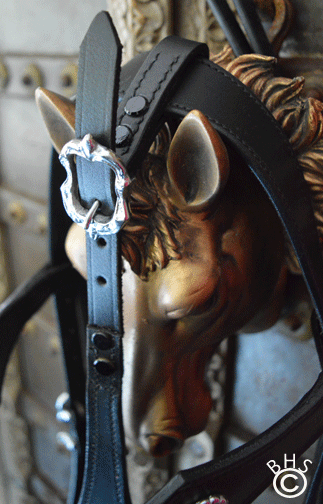 BHS Revelry Valiant Bridle in good quality Harness leather, with Gold or silver accents on front. Inverted Y style faceplate. Size: Standard FULL, Adjustable to SMALL WARMBLOOD.
Approximate Bridle Measurements: Brow - 17", Noseband ( around) 29" to 33", Crown 41" to 48", frontal adjusts from 12.5" tp 14.5".
IMPORTANT NOTE
- THEASE DISCOUNTED BRIDLES WERE ORIGINALLY MADE INCORRECTLY, AND HAVE BEEN PROFESSIONALLY MODIFIED AND CORRECTED, ( see photo) NO REINS HEADSTALL ONLY.
Orig. Price $225 dicounted price $145
1 Headstall ( no reins)
CLICK BUTTON BELOW TO ORDER BLACK/SILVER

DISCLAIMER: Horses are by nature dangerous animals, leather riding products are meant to break under stress, EQUINE DESIGN/ BAROQUE HORSE STORE; will not be held accountable, financial or otherwise for any use, breakage ether foreseen or unforeseen, that results in, damage, injury, or death to human or animal. By purchasing our items you are agreeing to accept any and all risk associated with the use of any and all purchased items.